Fullmoon wo Sagashite
Feb 14th, 2013 | By
Emichan
| Category:
Fullmoon wo Sagashite
,
Series
Fullmoon wo Sagashite (Searching for the Full Moon) is another series by the creator of Kamikaze Kaitou Jeanne, Arina TANEMURA. Once again she creates a story about a magical girl. But instead of a Sailor Moon-like fighting magical girl, we get a heroine that is more like Creamy Mami or Fancy Lala but with a new twist.
Mitsuki is a very sheltered 12 year old. She lives with her grandmother after the death of her parents, and she is always treated with kid gloves because she is ill. Mitsuki has a tumor on her throat and is often weak and has to miss school. The one thing Mitsuki wants to do the most in the world is to sing. However because of her illness, she cannot speak or sing with a loud voice. Treating Mitsuki's illness is a family friend, Wakaouji-sensei. He is a doctor, and was a friend of Mitsuki's parents. He believes that Mitsuki's tumor can be successfully removed with surgery, but Mitsuki is reluctant to do that because there is a very high chance that she could lose her voice and she wouldn't be able to sing.
Not only does Mitsuki love to sing, but she also has someone to sing for. A few years ago she promised the boy she likes, Eichi-kun, to follow her dreams and become a singer while he will follow his dream to become an Astronomer. Mitsuki loves Eichi-kun, but before she could tell him, his family moved to America. Mitsuki wants to become a famous singer in order to let her voice reach Eichi-kun in America and show him that she is following her dream.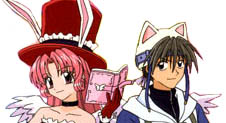 One day while alone in her room, Mitsuki sees two strange people magically come out of her wall! One is a girl with long pink hair and bunny ears. The other is a boy with dark hair and cat ears. They are surprised that Mitsuki can see them because they are Shinigami, or death gods, sent to escort Mitsuki to heaven. They tell Mitsuki that she has only one year left to live! Mitsuki is stunned by this, and quickly realizes that if she ever wants to become a famous singer and reach Eichi-kun, she had better move fast before her time runs out. She wants to enter a talent search for new idols and become famous through that. Thinking to humor her, the Catboy Shinigami (named Takuto) transforms Mitsuki into a 16 year old healthy version of herself. Older Mitsuki enters the contest and actually wins it!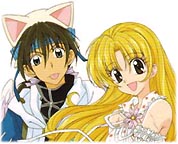 Thus begins the idol career of Mitsuki, aka 'Full Moon'. Takuto and Meroko (the bunny girl) stay with her and decide to help her chase her dream in the one year left of her life that she has. Being an idol singer is not easy, and Mitsuki faces both common obstacles like rival singers, tough producers, and other difficult parts of the idol business, as well as more unusual obstacles like how to manage being both 12 year old schoolgirl Mitsuki and 16 year old Full Moon and not have anyone find out. Mitsuki has a great manager, Oshige-san, and the support of Wakaouji-sensei, as well as the dedication of Takuto and Meroko to help her, so she is never alone.
Fullmoon wo Sahashite is a great series, with one of the nicest endings I have seen in a while. Very satisfying ^_^ Some episodes are a bit episodic, problem-of-the-episode sort of things, while there are a lot that are straight through continuity with horrible cliffhangers. The music is very nice (I like Mitsuki's singing voice!) and there are some surprise twists and turns along the way. Given the fact that Mitsuki will die after one year gives the show a sense of urgency and it gets very serious towards the end. This is a slightly different magical girl show in the sense that Mitsuki doesn't actually have the power herself. Takuto is the one who transforms her, and applies some illusions around her. And the talking pets in this case would be Takuto and Meroko themselves, in their plushie forms. Howver the show is similar in spirit to the old Studio Pierrot shows that I couldn't resist including it here.
Fullmoon wo Sagashite is ©Arina TANEMURA, Shueisha
Picture on the left borrowed from FullMoon