Minky Momo
Feb 13th, 2013 | By
Emichan
| Category:
Minky Momo
,
Series
Minky Momo is the story of a cute little girl named Momo who is a Magical Fairy Princess from another world. Because the human world has lost touch with the spirit of true happiness and dreams, the Magical World has become a hidden place. The King and Queen of the Magical World decide to send their daughter, the Princess Momo, to live on Earth. Her mission is to try to spread joy and the power of dreams. Armed with a magical Wand, Momo uses her magic to touch the lives of those around her.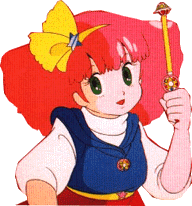 There are actually two Minky Momo television series. The first ran in the 82-83 year. In that series, Momo's human parents ran a pet shop, and Momo's magical powers involved transforming herself into many different teenaged girls who each had their own special skills. The second Momo TV series ran in the early 90's, and featured a similar plotline. This time, however, Momo's parents run a hotel, and Momo's powers are not limited to transformations. The two different Momo's have indeed met each other, in the second Momo TV series as well as in one of the Momo OVAs (Original Video Animations).
Unfortunately, I have seen precious little of this anime, but as I watch more I shall elaborate on my series description!