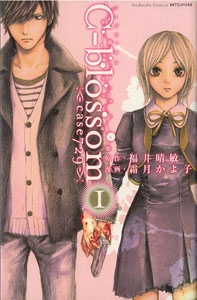 "C-blossom ~ case 729"
story by FUKUI Harutoshi
art by: SHIMOTSUKI Kayoko
ISBN# 4-06-372040-3
Kodansha Comics (Betsufure) 2005
I purchased this manga based on the intriguing cover. It was their hands that captured my interest. They are bloody, and there is the gun. Her skirt is also in tatters. What happened to them? The art is very nice, and it looked like it would be an interesting story. What I found out after I bought it is that this is a pretty unique shoujo manga. It is a two-volume series written by FUKUI Harutoki, who is a well-known novel and screenplay author in Japan. Most of his works seem to be very serious military stories. Several of them have been made into live action movies. He has also done some Turn A Gundam novelizations. He has won some important literary awards. This guy is pretty big in Japan. Therefore it is rather surprising that he would decide to write a shoujo manga ^_^ Apparently it is a sort of sidestory set in the same world as his "Aimless Aegis" novel (which was made into a movie also)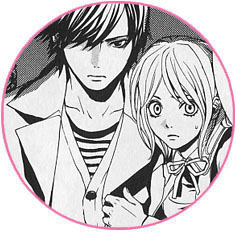 It is not surprising that while reading this manga, I felt a bit like I was watching a movie. There is a lot of action and suspense and danger around every corner.
MATSUMIYA Kana is a student at an all-girls private school. She is somewhat infamous on campus because her father is a criminal. He was arrested by the District Public Prosecutor's special investigation team on charges of embezzlement. Agents came to Kana's home and took away all her family's belongings. Kana is obviously very depressed, and the girls at school treat her as an outcast. Things change one day with the arrival of a new art teacher. His name is KISARAGI Kou, and he is very handsome and intelligent.
Kou is nice to Kana, and seems to be the only one who understands her feelings. She soon opens up to him and tells him her problems, and he supports her and acts as her friend. Therefore she is understandably surprised when, one day on the way home from having fun at an arcade, Kou stops his car in a dark, secluded place and does absolutely nothing to help Kana when a group of dangerous-looking men pull her out of the car. It turns out that Kou is part of an organization that is after Kana in connection to things her father was involved in! The plot thickens when Kana is suddenly rescued from danger by another man.
He is the REAL KISARAGI Kou, and it is his job to keep Kana safe. He has been watching her for a while, and Kana realizes she has seen him before. As for the man who was threatening her, his real name is Touya, and he is an old comrade of Kou's. He borrowed Kou's identity and plans to kill Kana and Kou if he can get the chance.
Much of the story is a big chase, as the real Kou takes Kana away from Touya and they head for safety with Toyua's men after them at every turn. The mess her father is in turns out to be very complicated, and things are not quite as they seem. Throughout all of it, Kana is intrigued by the real Kou, and his gruff, serious personality. He is very single-minded and focused on his mission. There is a lot of action and violence and political manipulation going on. It is very exciting!
This shoujo manga is very different than what I usually read, it is a refreshing change! :D
*Back to Index by Author* *Back to Index by Title* *Back to Main*