The Great Shoujo Manga Gift Guide 2009
By
Emily
• Nov 27th, 2005 • Category:
Features
,
move
Hello everyone! The holidays are almost upon us, and soon it will be time for shopping for holiday gifts for our loved ones. This year, the New York Times Graphic Novel Gift Guide failed to list any manga series (shocking!) In reaction, myself and a number of manga reviewers on twitter all decided to come up with our own manga gift guides for the holidays. A list of the other gift guides can be found here.
As my site focuses on shoujo manga, I have decided to put together my guide using shoujo manga that has been released for sale in the US. Do you know someone who loves shoujo, but don't know what to get them? Do you love shoujo manga, but don't know how to tell people what series you want to receive? Then this guide is for you! Here are some of my favorite shoujo releases that are definitely worth purchasing, and should be on any shoujo lover's bookshelf. Some of these are recent releases, and some of them have been out for a while. Most of them I have talked about on this site before, but there are a few that I am mentioning for the first time. Enjoy!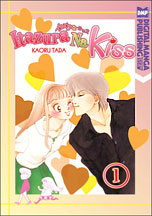 TITLE: Itazura na Kiss
AUTHOR: TADA Kaoru
PUBLISHER: Digital Manga Publishing
ISBN:978-1569701317
When Kotoko, a clumsy girl of average smarts, falls for Naoki, a perfectly handsome genius, hopes for romance seem out of the question. However, fate brings them together, and Kotoko's determined affection may just slowly melt Naoki's heart of stone. Itazura na Kiss is a trendsetting shoujo series with a quirky art style, and hilarious supporting cast. It influenced many series that followed it, and even spawned two live action adaptations and an anime. Itazura na Kiss is a romantic comedy of opposites attracting that takes a standard shoujo romance and follows it farther than most series do. Naoki is one of my favorite shoujo manga heroes. He is such a surly guy at first, it is great to see Kotoko change his view of the world.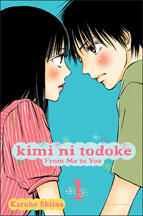 TITLE: Kimi ni Todoke
AUTHOR: SHIINA Karaho
PUBLISHER: VIZ Media
ISBN:978-1421527550
This is a gentle series about a misunderstood girl named Sawako who learns the value of friendship, and the importance of communicating how you feel. Sawako, with her tall, thin figure and long black hair, is a socially awkward girl. Her looks inspire others to call her "Sadako" after a character from a horror movie. Her classmates even make up rumors about how she has the power to curse people, and how she is bad luck. However, these rumors couldn't be farther from the truth. Sawako is a sweet girl who only wants to please others. She is shy, and doesn't know how to express herself. But after starting high school, Sawako meets a carefree boy named Kazehaya, who helps Sawako to come out of her shell. The relationship between Sawako and Kazehaya, as well as the one between Sawako and her new female friends is often touching and sweet.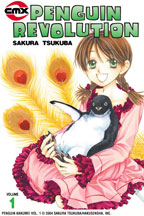 TITLE: Penguin Revolution
AUTHOR: TSUKUBA Sakura
PUBLISHER: CMX
ISBN: 978-1435221673
Really now, any shoujo manga collection would not be complete without a series about cross-dressing idols, now would it? Of course not! They are a mainstay of the genre! This particular series is especially enjoyable, as it involves a double dose of cross-dressing. Yukari is a girl from a background that involves an unreliable parent who often runs off due to bad investments. Because of this, she dreams of a stable life. However, her dream is dashed when she stumbles across the secret of Ryoko, one of the most beautiful girls at her school. Ryoko is actually Ryo, a boy working to become a famous actor. Wacky circumstances ensue, and soon Yukari is dragged into the world of idols and is forced to cross-dress as a boy! This series is full of shoujo manga cliches, but it is so much fun!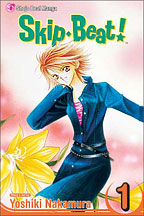 TITLE: Skip Beat!
AUTHOR: NAKAMURA Yoshiki
PUBLISHER: VIZ Media
ISBN: 978-1421505855
Here's another take on Japanese show business, but one with quite a different feeling. Kyoko is a timid girl who is childhood friends with Sho, and up and coming singing idol. While she loves him very much, he treats her poorly. When Kyoko finally realizes how much she has been used, something inside her snaps, and her inner demons are unleashed. Vowing revenge, Kyoko enters the entertainment industry with the goal to beat Sho at his own game and become more famous than him. Along the way, Kyoko meets new friends, enemies, and finds a new love in an unexpected place. Kyoko is not your average heroine. She is passionate in everything she does. Will she be able to get her revenge on Sho? This series is a wonderful comedy that treats the classic love triangle concept with great originality.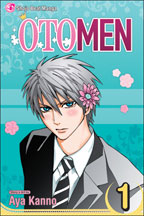 TITLE: Otomen
AUTHOR: KANNO Aya
PUBLISHER: VIZ Media
ISBN: 978-1421521862
Heroes in shoujo manga don't always look like the most manly of men, what with all the sparkles, big eyes, and stick-thin figures. However, they usually at least have a somewhat macho personality. However, in Otomen, we are presented with an unconventional hero. All his life, Asuka has liked girly things. Cooking, sewing, knitting cute things. However, after his father (who had similar interests) abandoned his family, Asuka's mother forced him to promise to become a more manly man, and throw away his girly hobbies. Years pass, and he has done just that. However, it's all just a sham. Sure, on the outside he is tall, handsome, and skilled at kendo. But on the inside he still dreams of frilly cute things. What happens when such a sweet boy like Asuka falls in love with an unexpectedly macho girl? This is a silly series, but the art is lovely, and the relationship dynamic is quite unusual!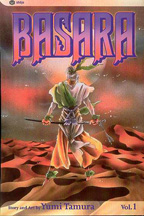 TITLE: BASARA
AUTHOR: TAMURA Yumi
PUBLISHER: VIZ Media
ISBN: 978-1569319741
If high school hijinks or the entertainment industry aren't your thing, then check out BASARA. This is a love story on a more epic scale, a dramatic tale of war and politics. Yes, there is some cross-dressing (This IS shoujo after all!) but it is set in a fully-realized fantasy world filled with colorful background characters and complicated plot twists. War rages across the land as the Red King and his armies are on the march. When Tatara, a boy prophesied to save the land, is killed, his twin sister Sarasa takes his place, pretending to be her brother. She leads his army, determined to save her people from being conqured by the Red King. Complications ensue when, momentarily out of her disguise, Sarasa meets Shuri, a handsome young man who has a secret identity of his own. Lovers and enemies, who will triumph?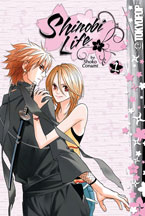 TITLE: Shinobi Life
AUTHOR:CONAMI Shoko
PUBLISHER: Tokyopop
ISBN: 978-1427811110
Here's a story that combines romance, ninjas, and the supernatural. FUJIWARA Beni is a high-spirited high school girl from a wealthy family. Because of this wealth, she is often the target of kidnappers and other bad men. She is just in the midst of trying to escape from one such kidnapping attempt when she falls from a building and is rescued by an unexpected savior. It is a handsome young man named Kagetora, a ninja who has just come out of a portal through time! Once pledged to serve Princess Beni, a beautiful princess of the Heian era, Kagetora must now deal with his time slip and instead protect this modern Beni, a girl who looks exactly like his Princess Beni. This series melds time-travel romance with ninja fights. The art is clean and pretty, and the romance is at times both sweet and silly.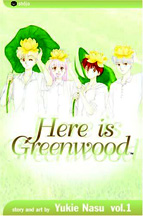 TITLE: Here is Greenwood
AUTHOR: NASU Yukie
PUBLISHER: VIZ Media
ISBN: 978-1591166047
This is one of the very first manga series I ever bought. Here is Greenwood is one of those rare shoujo manga with a male protagonist. It was adapted into a wonderful 6-episode OVA series in the mid-90's that is also worth checking out. It follows the adventures of a boy named Kazuya who is stuck in an awkward situation. His older brother, the person who raised Kazuya since their parents died, has just married Sumire, Kazuya's first love. Faced with the prospect of having to live with the happy couple, Kazuya opts to attend an all-boys high school and live in their dorms. However, an unfortunate accident caused Kazuya to miss the first day of school. This messed up his dorm placement, and before he knows what's happening, he is forced to move into the Greenwood dorm, home of an assortment of crazy personalities. Kazuya, normally an average guy, is slowly drawn into the surreal lives of his dorm mates. From his roommate who may or may not be a girl, to a visit from a ghost, Kazuya's adventures are just beginning. This is a charming series.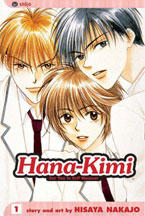 TITLE: Hana-Kimi (Hanazakari no Kimitachi E)
AUTHOR: NAKAJO Hisaya
PUBLISHER: Viz Media
ISBN: 978-1591163299
This is one of my favorite series. In fact, I made an entire site dedicated to it. It follows a common shoujo plot pattern involving crossdressing (wait, I have 3 series in my shopping guide that involve cross-dressing? Oh, shoujo manga…) and school romance, but the large cast of supporting characters make this a joy to read. Mizuki is a Japanese American who travels to Japan to meet a boy she admires. His name is Sano, and he is a champion high school high-jumper. To meet him, Mizuki goes to great lengths — Sano attends an all-boys school, so Mizuki cuts her hair and enrolls as a boy! This seems like quite a lot to go through in order to meet someone, but Mizuki can be pretty determined. The series follows the adventures of Mizuki as she tries to keep her gender a secret. Spanning over 20 volumes, Hana-Kimi is a great read.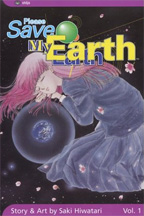 TITLE: Please Save My Earth
AUTHOR: HIWATARI Saki
PUBLISHER: VIZ Media
ISBN: 978-1591160595
For you sci-fi lovers out there, here is a rich and layered story of fate and reincarnation that blends elements of sci-fi, fantasy, mystery, tragedy, and romance. Alice is a seemingly normal school girl. However, is she is dissatisfied with her life, and dreams of getting away. One source of Alice's problems is Rin, a small boy that she babysits. He is a monster, and drives Alice crazy. When a shocking accident causes a sudden personality change in Rin, Alice's world is turned upside down. She has strage dreams that she doesn't understand. What is Alice's connection to these people she sees in her dreams, and how are some classmates at school also connected? What happened to Rin? Why can Alice see the Earth so clearly, as if from the moon? Please Save My Earth is a long series with many twists that gradually pull you in.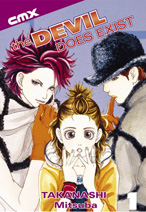 TITLE: The Devil Does Exist
AUTHOR: TAKANASHI Mitsuba
PUBLISHER: CMX
ISBN: 978-1435217799
Oh, here is a classic shoujo manga love triangle for you! A misdirected love letter spells trouble for high school girl Kayano. She meant to give it to Kamijou, a handsome, angelic, star basketball player, but instead, the letter landed in the hands of a rebellious young punk named Takeru. Takeru is quite the devil, and he uses the situation to tease poor Kayano. Thus their relationship starts off very badly, and only gets worse when Kayano discovers that the man her mother is about to marry is none other than Takeru's dad! Oh no, she has to deal with Takeru as a stepbrother? Kayano gets caught in a love triangle between a devil and an angel. What will she do? While the shoujo manga plot devices abound, the relationship between Kayano and Takeru is still highly entertaining.
For older readers, a couple of josei-manga recommendations
The series I listed above are all shoujo, aimed at a younger audience. But I also have a few gift suggestions for you mature ladies.

Kimi wa Pet (Tramps Like Us), by OGAWA Yayoi
What if you had a pet bishounen? This is the situation Sumire finds herself in when she discovers a box in front of her apartment that contains a rather bedraggled young man. Sumire, a strong, confident career-woman, is successful in the workplace, but unlucky in love. Meeting this unusual young man will change her life forever.

Suppli, by OKAZAKI Mari
Similar to Sumire in Tramps Like Us, Minami,the heroine of Suppli, is a successful career-woman with a not-so-great love-life. This series takes a more realistic approach to modern dating as Minami deals with various career and personal challenges.

Butterflies, Flowers, by YOSHIHARA Yuki
Author Yuki Yoshihara is a master at modern sex comedy manga. In this series, we have the hilarious story of a girl named Choko who has recently joined a large company as a low-level office lady. Once Choko's family had been very wealthy, but they have fallen on hard times. Things get fun when Choko realizes that her harsh and demanding boss is none other that the loyal servant boy from when she was young. This is an excellent role-switching comedy.

Emily is not cute like a shoujo manga heroine.
Email this author | All posts by Emily