Miha Paradise, by TADA Kaoru
By
Emily
• Aug 18th, 2006 • Category:
Miha Paradise
,
One-Shot
,
Romance
,
TADA Kaoru
,
Title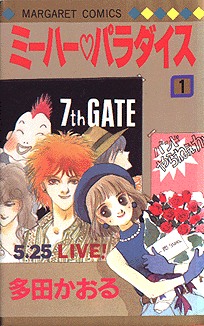 Title:Miha Paradise
Author:TADA Kaoru
ISBN: 4-08-849653-1
Margaret Comics, 1990
Narumi EZAKI is your typical genki, idol-loving schoolgirl until one day when she sees a classmate from school talking on the street to some strangely dressed, scary-looking guy. Thinking her friend is in trouble, she rushes in to help. It is then she discovers her quiet classmate's secret life as a visual j-rock groupie :) The guy Narumi's friend (her name is Mari) was talking to is actually a member of a rock band. Mari takes Narumi to a concert, and Narumi is immediately enthralled by the wild music, strange clothes and cool guys that make up the world of visual rock :) Narumi soon becomes a rock-enthusiast too, and goes with Mari to all the concerts and meets all the rock stars, including Ichirou, the lead singer from Mari's favorite band, '7th Gate' and Kyousuke, the lead singer of a rival band, 'Misfit'.
The story follows Narumi as she learns more about Japanese visual rock bands, finds herself attracted to Ichirou, and at odds with Kyousuke. Okay, the art in this series isn't that great. Actually, a lot of times it is downright scary ^^ But I still, for some reason, really liked the story ^^ Perhaps I just thought a manga about visual rock bands was cool :) The manga artist even includes some photos and narration of her study of visual rock bands (X-Japan, Bakufu Slump, KUSU KUSU, etc. I wonder if any of them besides X-Japan still exist? Well not that X does anymore, but still ^_^) that she did to research her story :) A few shots of the manga artist with various rock stars, it's funny :) Each volume also contains a small side story at the end not related to the main story at all. So if you like Visual Rock and shoujo manga, check this out :P

Emily is not cute like a shoujo manga heroine.
Email this author | All posts by Emily