Kienai, Omoi, by YOSHIOKA Ririko
By
Emily
• Aug 21st, 2008 • Category:
Kienai
,
move
,
One-Shot
,
Romance
,
YOSHIOKA Ririko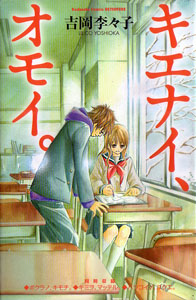 Title: Kienai, Omoi
(Indelible, Feeling)
Author:YOSHIOKA Ririko
ISBN# 978-4-06-341513-1
Kodansha Comics Betsufure, 2007
This is another manga by the author of Kare wa Tomodachi, a series I am currently enjoying reading. I liked that series enough to go look for things by the same author, and this one doesn't disappoint. I like the cover here — it reminds me of the Kare wa Tomodachi covers, with its school setting and blue and green colors. This is a collection of 4 school-life stories. Under the paper cover on this book, there is a cute little illustration of the characters from all 4 stories together in a classroom.
It is their third and final year of middle school, and YOSHIMURA Sayo is depending on her outgoing friend Maki to help her get by in a class she hates. Sayo is very shy, and not that great at meeting new people. What's worse, the boy who sits next to her makes fun of her apparent desperate panic when trying to greet people. To top it off, her teacher decides that Sayo is going to be a class representative! This is horrifying to her, but amazingly enough, when she tries to figure out how to select another class committee member, Mikami-kun, the boy who had teased Sayo, volunteers to help her out! Everything works out, and Sayo is extremely grateful to him. He isn't as bad as he seems, and Sayo finds herself starting to like him. Unfortunately, it appears that Mako has fallen for him too! Mako, the girl who had protected Mako ever since they were children! What is Sayo to do? Yes, this doesn't exactly have the most original plot (heck, I just summarized one like this the other day), but what I like about it is the way things work out.The romance, while important, isn't really the central theme here. While some authors manage to take this premise and create an entire series on it, this little short story manages to be very satisfying.
The next story is about the stress of a secret relationship, and what choices can be made once it is found out. Chiri is a first year high school student and is manager of the baseball team. She had a boyfriend, Hiro, who is the team's catcher. However, because the coach does not allow anyone on the baseball team to have a girlfriend, they must keep their relationship a secret. They do their best, but Chiri finds herself envious of other couples who can be openly affectionate and be together in public. The stress of sneaking around soon causes some small misunderstandings and tension in their relationship, but soon things are put to the test when their relationship is discovered, and Hiro faces the threat of being removed from the team right before their big tournament.
I think this third story might be my favorite. Every day, SAITOU Ena rides a bus home from school, and almost every day she sees a boy standing in front of a bookstore, looking like he is waiting for someone. Who is he waiting for, and why? Is it a friend? A girlfriend? Ena is intrigued, and soon she has fallen for him without ever even speaking to him! Ena's friend, a girl who is more forceful than Ena herself, and tired of hearing Ena talking about this guy, drags her to the guy's school so they can look for him. Conveniently enough, they find him, and Ena manages to confess her feelings to him! Expecting to be rejected, Ena is shocked when the guy, SUGISAKI Yusuke, accepts her feelings, and agrees to be her boyfriend! Why did he do that? He doesn't even know Ena! Does it have to do with the person he is always waiting for? Is Ena just a replacement for her?
The final story is brief and cute! Every day, Shindo-chan and Hagino-kun help out working in the school library. They have one of those always-fighting-but-really-close-friends sort of relationships. Shindo-chan is cute but very short, so stacking books on high shelves is always problematic. Hagino-kun is not much help with this either, as he is barely taller than her. When a handsome, TALL guy named Motonari takes an interest in Shindo-chan, she is dazzled by him. He is so tall and friendly, and considerate! They begin to date, but what is this? Hagino has taken a sudden interest in another classmate of theirs, and Shindo-chan feels reallly uncomfortable about it…
So, yeah. These are simple short stories, but they are sweet and adorable :D Worth a look!

Emily is not cute like a shoujo manga heroine.
Email this author | All posts by Emily