Hatsukoi Shinan, by YABUUCHI Yuu
By
Emily
• Jan 23rd, 2009 • Category:
Hatsukoi Shinan
,
Manga About Manga
,
move
,
Romance
,
Title
,
YABUUCHI Yuu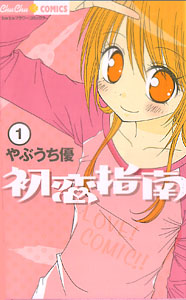 Title: Hatsukoi Shinan (First Love Instruction)
Author: YABUUCHI Yuu
ISBN# 978-4-09-132105-3
ChuChu Comics, 2008
There is something about YABUUCHI Yuu's art. Over the years it has become progressively cuter and cuter and CUTER. I think at some point soon, it will reach critical mass, and people will be passing out in bookstore aisles after just one glance at the pages. Seriously! :) She draws girls that look so young and adorable! Her guys are also more "cute" than "hot bishounen" too. But considering most of her work is aimed at young girls, I suppose this is to be expected. I would like to see her someday try drawing a hot badass macho male character though. This is volume 1 in a fun new series that is running in ChuChu magazine. For once, we don't have any cross-dressing idol singers, or coming-of-age/facts of life type stuff that YABUUCHI-sensei has done with her other recent works. This time we have a manga about… manga!
I admit, as an artist, I like it when manga series are about making manga. I figure if anyone can portray the workings behind the scenes in producing a manga, it's a mangaka. It's fun to see them slip in some in-jokes and to see all the effort that goes in to making a manga.
This series revolves around a cute, normal girl named Nao. I say "normal" because she is fun, friendly, and cute. She is not the most popular girl ever, but she isn't an outcast, either. She has a circle of friends who all come to her for love advice, and she does her best to help them out. Of course, all this "love advice" is rather silly, coming from her, considering she has almost zero experience with dating boys, but whatever. Nao has an outgoing personality, and is not the type to see an injustice go unpunished, or to ignore someone in need of help.
There is one guy in her class who has sort of caught her eye. Maybe. His name is Kamiki-kun, and he is the obligatory popular and handsome guy that all the girls in Nao's class drool over. He is also president of the student council, and very smart. Nao sometimes thinks he can be a jerk, yet her eyes follow him. His personality is serious, and somewhat surly. Almost tsundere. There are some surprising rumors going around that Kamiki-kun is dating an older woman.
Nao finds this interesting to hear, but she doesn't have that much time to dwell on it, because she has her own after school hobby to keep her busy. You see, Nao loves to draw. In fact, she has been working hard at drawing manga and has even submitted it to manga magazine contests! And she even recently got an honorable mention for one contest. Of course, drawing shoujo manga can be difficult when you have no experience with romance. All Nao can do is carefully observe everyone at school, and learn about things by watching others. Someday she will make her official debut, she just knows it!
Nao's manga-drawing hobby is not exactly a popular or 'cool' thing, so she keeps her hobby a secret from everyone, including her parents. However, she does have one person she can talk to about it– Myuzu-sensei, a mangaka who made her own debut last year. She has been an online chat 'pen-pal' with Nao ever since she was in middle school. Myuzu cheers Nao on, and encourages her to work hard on her manga. Then one day, Myuzu asks if Nao would like to meet her and work as her assistant for a day while she gets the latest chapter of her manga finished. Totally excited about this, Nao agrees.
But when Nao goes to meet Myuzu, she is in for a big surprise. Myuzu has sent her other assistant to meet Nao and bring her to her apartment. And that assistant turns out to be (you guessed it) Kamiki-kun! How shocking! The popular, handsome, studious, Kamiki-kun works as a shoujo mangaka's assistant? No way!
Kamiki looks surprised to see Nao. He had no idea she liked manga, or was interested in drawing. He is also rather embarrassed to be there. Yes, he is Myuzu-sensei's assistant. When he brings Nao to meet Myuzu, Nao is thrilled. Myuzu is young and very pretty! She is super-friendly, and soon Nao (and the readers) are learning more about manga-making tools and supplies. Nao also learns that Myuzu uses Kamiki-kun to model poses that she draws from. How funny!
So begins the adventures of Nao as she struggles to become a mangaka. Kamiki knows her secret hobby, but she knows of his secret assistant work. But hey, what is his relationship, exactly, with Myuzu? How did he start working for her? Their secrets bring them closer. In fact, perhaps Nao can finally get some first hand experience at dating boys from Kamiki-kun… surely it would help improve her manga stories. Will Nao ever manage to make her official debut as a mangaka?

Emily is not cute like a shoujo manga heroine.
Email this author | All posts by Emily