Cinderella no Jouken, by KIKUCHI Kamaro
By
Emily
• Apr 3rd, 2009 • Category:
Cinderella no Jouken
,
KIKUCHI Kamaro
,
move
,
One-Shot
,
Romance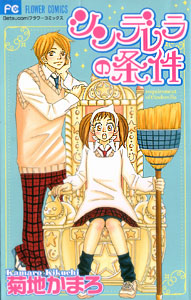 Title: Cinderella no Jouken (Requirement of Cinderella)
Author: KIKUCHI Kamaro
ISBN# 978-4-09-138581-8
Flower Comics, 2004
Based on my appreciation for two of this author's other works, "Nosatsu Rock Shounen" and "Nousatsu Beat de Utawasete," I decided to give this one a try, too. The cover is cute! And I do like Cinderella stories. This is a one-shot volume, a collection of 5 stories. The characters on the cover are from story #4. This surprised me, as the volume cover and title are usually taken from the first story in a tankoubon. As usual, this author's artwork is a lot of fun. I really like the way Kikuchi-sensei draws bodies. They seem a little bit more realistic and not quite as toothpick-thin as so many shoujo manga bodies are. I also like the exaggerated expressions the characters get, especially when they are happy. So cute! There are occasional 70's shoujo manga art style references as well, though no outright parodies. She does do the great 70's thing where a character will have blank eyes, or a little heart in their mouth :)
Our first story is about a girl who meets an unexpected intruder. It is summer vacation, and high school student Saya is holding down the fort at a girls dormitory by herself. She can't go home because her parents are away on vacation in Hawaii. Saya is very bored though, because the dorm is in an area that is a bit far from civilization. She can't even get cellphone reception there. However, it isn't long before Saya's boredom is interrupted when she stumbles upon a very scraggly, dirty, rumpled stranger laying along the path near some bushed. The guy looks a mess. After determining that the stranger is alive, Saya brings him back to her home and feeds him. He has a little fun scaring her, and Saya is convinced he must be dangerous. But the next morning, when she is about to order him out of the house, she is surprised to discover that once he cleans up, the guy is handsome! He turns out to be a funny and polite artist named Mikami. Saya allows him to stay, and soon they strike up a friendship. Saya likes to watch him draw, and may be falling for him. But Mikami is older than her, and summer will soon be over…
Story 2 is an adorable story of forbidden love between rivals. On one side we have Miki. She is the student council president of an all-girls academy. On the other side we have Riku. He is the student council president of the neighboring all-boys academy. By day, the pair are experts at acting extremely polite and gracious to each other, like complete strangers. It is only at night that they can meet up. They both keep the fact that they are actually dating a secret from everyone. But the strain of keeping the secret can be very intense. Hopefully a secret trip to a hot spring will relieve some of their tensions…
Next up is another story of rivals in love, but this pair don't quite realize their feelings. MOCHIZUKI Sayoka is an elite student. She is beautiful, wealthy, and excels at everything from sports to studying. However, she is lot alone. She has a rial in the form of KUSHIDA Kyofumi. Kyofumi is also good-looking, wealthy, and he excels at sports and studying. Whenever they cross paths, the couple immediately gets angry and throws insults at each other. However, Sayoka has a secret — she is in love with Kyofumi. She isn't sure why, since he can be really mean, and he is always hanging around with other girls. But she likes him. Naturally, she can't let him know this, so she hurls all his insults back at him with great enthusiasm. But things can't go on like this forever, especially when Sayoko loses a challenge and is forced to work as a drudge/assistant to Kyofumi…
Next up is the story that is pictured on the cover. Our heroine, MAKINOSE Sanae, dreams of being able to spend time with a handsome prince type of guy. Fortunately for Sanae, her wish comes true when she wins a contest at her school's festival where a classmate of hers, SAKAKI Kazuhiro, is being auctioned off. For one week, he will be her boyfriend! Kazuhiro really is a princely guy. He is handsome, smart, and really nice. He also takes his role as boyfriend very seriously. But much to Sanae's surprise, Kazuhiro has a very unusual home life. He is actually rather poor, and he has 4 younger siblings that he has to take care of. Before she knows what is happening, Sanae ends up helping KAzuhiro take care of his family, as if she was a servant. She becomes close to him and his family. But what will happen when the week is up? After all, Kazuhiro isn't a real prince…
The last story looks a bit rough. The artwork isn't quite as nice as the rest of the book, so I have a feeling it may be one of the author's earlier works? It is the cute story of a girl named Momoko who is in love with a cool sempai at her school. However, she can't seem to stop arguing with Yuuya, one of her younger brother's classmates. He is such a maddening pest!
This is a nice, quick one-shot with great artwork, and simple, non-smutty romantic-comedy stories. They are a bit predictable, and there aren't really any surprising twists and turns, but it is a sweet, pleasant read.

Emily is not cute like a shoujo manga heroine.
Email this author | All posts by Emily