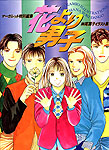 The Hana Yori Dango Manga Illustration Book
by Kamio Yoko (ISBN4-08-855093-5)

This is an excellent collection of art! It is filled with many of the beautiful HYD illustrations that graced the cover of Margaret Magazine over the years. I really wish they would publish a 2nd HYD artbook though. This book was published in 1995, and HYD ran until 2003. There's a good 8 years worth of color illustrations that I want to see collected! *sigh* But enough babbling from me, take a look at some of my scans from the book!
Click the Thumbnails for the larger images