Fancy Lala is a magical girl series made in the late 90's by Studio Pierrot in the tradition of the magical girl shows they made back in the early 80's. There are many things in Fancy Lala that resemble things in Creamy Mami, Magical Emi, Pastel Yumi, and Pelsia. However, the animation style and quality have been updated quite a bit. Fancy Lala tells the story of a cute young girl named Miho, who wants to be a manga artist. She is good at drawing, and also likes to draw clothing. One day Miho acquires two very unusual Talking Pets who give Miho some magical Items that allow her to do very unusual things!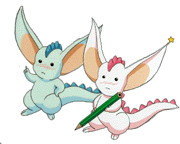 Miho can use her Items to transform herself into an older girl, like an older version of herself. (This is similar to Pelsia, Mami, and Emi) She can draw clothes with a magical pen and make them real. (this is sort of like Pastel Yumi) Miho's older self becomes a famous idol singer and actress called Fancy Lala. Miho must juggle her two lives- normal schoolgirl and new idol. Miho's experiences in the idol business are a bit more realistic than Creamy Mami's. Miho ends up with two romantic interests (one her age, and one Lala's age) and has a rival in the idol business.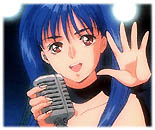 I really like Fancy Lala. The character designs (by Takada Akemi) are fresh and cute. Miho is a fun character. She is cute, but not quite as clumsy as other magical girls. She seems a bit more 'normal' to me. I really hope Studio Pierrot makes some more Magical Girl shows!